Happy New Year! I know we have more affinity with the calendar year because it starts with a New Year's Eve party and pretty well ends with Christmas holidays, but the financial year is the year that literally counts!
July 1st is the starting point for new taxes, tax cuts, giveaways and slugs, but this year the news is more good than bad.
And even though last financial year saw the All Ords rise 24% (which is huge), I still suspect we'll have another good year for stocks, even though fund managers think a 2% gain for the second half of 2021 is on the cards. The 'All Ords' is a share index often used to gauge the overall performance of the Australian stock market.
That was the conclusion from an AFR survey of prominent fund managers, who cited concerns about vaccinations, the delta variant and other issues like China that could stop stocks surging but that doesn't mean the returns from the share market have to be so poor.
To me, the arrival and availability of the Pfizer (or any vaccine other than AstraZeneca) will be important for the economy's growth, overall confidence and what happens to stock prices.
If the supply of these alternative vaccines and the number of those of us vaccinated surprises on the higher-than-expected side before year's end, the stock market will respond very positively.
The months May to October aren't as positive as the November to April time period, so if the vaccine news is better than tipped by November, we could easily see the stock market power into a strong end-of-year finish.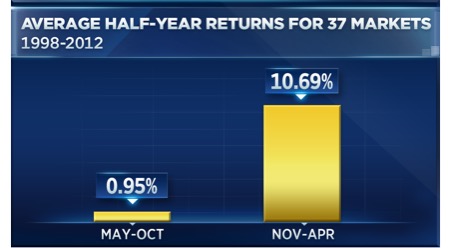 Also, you have to remember that our market is driven by what Wall Street does. So what's the outlook for US stocks?
Liz Ann Sonders from schwab.com put the second half for stocks into a neat and believable summary focusing on "market risks". Here's what she pointed to:
Peak economic/earnings growth rates.
Higher inflation.
Fed policy of being pro-inflation, which the market could decide is getting out of control.
Sonders mounts a believable case, not for a Roaring 20's-like boom but more a "boom-settle" scenario for the stock market.
She calls herself a "rock chick", as she often writes market yarns with a rock song title. And this is what her current rock-influenced thinking is suggesting to her as she sums up the investing situation ahead: "Immediately I thought of both Gimme Shelter by The Rolling Stones and Don't Stand So Close to Me by The Police. Today I might choose Back in the Saddle Again by Aerosmith, reflecting the fact that we are in the midst of the U.S. economy likely surpassing its pre-pandemic level as measured by gross domestic product (GDP). This is unquestionably good news; but may not mean smooth sailing for the stock market…"
She's right, the US is back in the saddle but will the road get rougher for stocks for the rest of 2021?
I think the answer is yes but the 'horses'/economies and their expected growth, which should drive company profits, should still be good for stock prices.
The US annualised rate of growth is now around 9% or 6.6% year-on-year, but both numbers are unbelievably high. The Conference Board in the US sees 2022 as a 3.8% growth year, dropping to 2.5% in 2023. These are still good growth numbers and should be supportive for stocks.
I'd be very surprised if our overall market wasn't up at least 5% this year, and when you add in 5% for income and franking, that's a 10% gain for risking your money in stocks. That said, being a stock picker might be the go for 2021-22, after you didn't have to be smart to get 24% plus income and franking by having the guts to have your money in an ETF for the S&P/ASX 200 Index!
This type of investment will do OK in the year ahead but the past year had the tailwind of the bounce-back after the unbelievable dive of 35% between February and late March of 2020. That tailwind is now only a breeze.
That's what you might expect out of the stock market this year, but July 1 also brings things of value that kick off a new financial year. Here's a list to remind you:
The new minimum wage rises $18.80 to $772.60 per week. The hourly rate is now $20.33.
Super goes up from 9.5% to 10%
Super is taken out on every dollar earnt. In the past, it only kicked in after you earnt $450.
The low and middle income tax offset is available to all taxpayers with income up to $126,000. Up to $37,000, your tax gain is $255. Between $37,001 to $48,000, the tax gain is $255 to $1,080. Between $48,001 up to $90,000, you'll get $1,080. Between $90,001 up to $126,000, the offset amount of $1,080 phases out at a rate of three cents per dollar above $90,000.
The company tax ratefor small/medium companies (with turnover under $50 million) falls to 25% in the 2021-22 year from the current 26%.
Tolls are going up around the country.
In summary it's a good year for growth, profits, stock prices and jobs is expected, but we have to get as much non-clotting vaccine as possible ASAP and then we have to get jabbed ASAP. If we do, it could be a much better year for stocks than some experts are predicting. By the way, if the Morrison Government doesn't get this happening ASAP, then the electorate's view on one Anthony Albanese will substantially improve!