Qantas CEO Alan Joyce thinks we'll be flying internationally by December, which is great for anyone wanting to break out from the confinement of our shores. But what about the Qantas share price? If you've been on standby to buy shares, have you missed the flight?
Working on the assumption that Australia should reach National Cabinet's 80% vaccination threshold by December, Alan Joyce hopes this will trigger the gradual reopening of international borders. International flights will restart to COVID-safe destinations, with idle aircraft and furloughed crew returning to service the demands of travel hungry customers.
If Joyce's plan comes to fruition:
Boeing 787s and Airbus A330s will be flying to Singapore, the USA, Japan, United Kingdom and Canada from mid December;
A320s and Boeing 737s will fly to Fiji;
The two way Australia/NZ "travel bubble" should also re-start;
The non-stop Perth to London Boeing 787 might shift to Darwin if WA's hard-line stance on borders continues;
Five A380s will return to service ahead of schedule and start flying from Sydney to Los Angeles from July 2022 and from Sydney to London from next November;
Flights to Hong Kong will restart in February;
Qantas will take delivery of an extra three 787s in FY23; and
Ten A380s with upgraded interiors will return to service by early 2024. Two will be retired.
Fiji has announced that it is preparing to welcome international tourists from November, and both the NSW and Victorian Governments are set to announce "vaccination freedoms' when the targets of 70% and 80% are met. There's a high chance these freedoms will include borders and travel, and perhaps more importantly for Qantas and other travel companies, the replacement of hotel quarantine with some form of home quarantine for returning vaccinated travellers.
Not surprisingly, the Qantas share price rallied on the news  – adding 12% to $5.44 since Joyce's announcement on 26 August. But as the following graph shows, Qantas and its CEO have had some "false starts" on international travel restarting before and this is the fourth time in the last 12 months that the Qantas share price has approached $5.50.
Qantas (QAN) – 9/20 to 9/21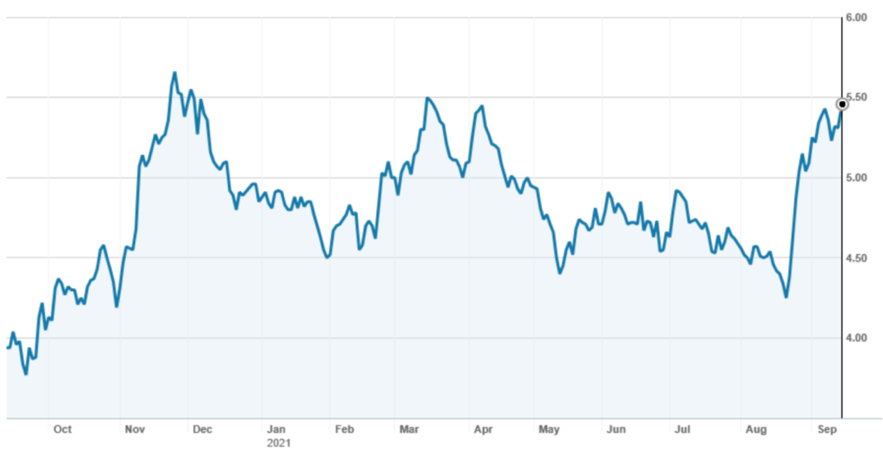 Source: Nabtrade
Is this time different? If so, has the share price got more in it?
Here's what I think
My sense is that it's different this time because the two greatest inhibitors to international travel – border barriers and hotel quarantine for inbound travellers – are about to be blown apart. When 80% of the adult population is vaccinated, the Government won't be able to maintain the same restrictions given that the rest of the vaccinated world is travelling. And on hotel quarantine, which not only limits the number of inbound travellers but also deters Australians from making outbound travel plans, there is intense pressure on the Morrison Government to find a workable alternative. Home quarantine for vaccinated travellers is coming.
What do the brokers say?
The major brokers see upside in Qantas, with a consensus target price of $5.86, about 8% higher than yesterday's ASX price of $5.44. The range is wide, from a pessimistic Credit Suisse at $4.10 who thinks " there is likely to be further disappointment on timing of airline travel reopening that could provide a more attractive entry point in the shares" to the optimists at Morgan Stanley with a target price of $7 and an "overweight" call.
The brokers recognize that Qantas has used the Covid-19 pandemic to transform its cost base, re-set its international portfolio and position itself to take advantage of a re-structuring of the domestic market. They don't expect Qantas to return to profitability until financial year 2023, with financial year 2024 the likely time that profits return to pre-pandemic levels. Most are comfortable that the Qantas balance sheet is strong enough to alleviate any risk of a further capital raising.
I'm with the brokers and think there's upside in Qantas. There's risk obviously, because if Delta gets worse or heaven forbid, another strain emerges and takes hold, borders will stay shut. And Qantas has already gone up 12% on the news, so some of the best buying levels have passed. But another 10% or so in the lead up to December wouldn't surprise me.