There are so many apps out there these days that help you track spending, budget, or reach your savings goals, and now the big banks are catching up by incorporating these kinds of tools into their online banking apps. Having these tools linked directly to where your money lives is more convenient and secure than having to download third party apps.
Depending on who you bank with, here's a list of the in-app perks you can start using right now!
Westpac – Savings goals
The Westpac Life account makes it simple to achieve your savings goals. You can categorise your goals and make as many as you want. You can choose the amount of money you want to contribute and how often (weekly, fortnightly, monthly), these payments will happen automatically, but you can also top of your savings goals whenever you want.
When setting up your goal, you choose a target amount and a date you want to achieve it by. The goal rings will help you visualise how you are tracking.
Splitting up your savings amongst different goals doesn't change the account total, which means you get the maximum amount of interest, while keeping your savings organised.

Source: Westpac.com.au
Bonus tip:
If you are aged between 18-29, you could be earning up to 0.4% p.a.* variable interest on your savings. You will have to open a Westpac Life account (savings account) and a Westpac Choice account. You must make 5 eligible purchases with a debit card linked to your choice account each month to receive the bonus interest on savings up to $30,000
*Rates subject to change
ANZ – Goal tracking
The ANZ online banking app also lets you create goals and track their progress. You will need either the ANZ Progress Saver or ANZ Online Saver account. You choose what you are saving for, name it, add a target amount and date. You can even add a personal photo to visualise your goals.

Source: anz.com.au
CommBank – Track, budget, predict
You have probably come across the Commonwealth Bank's ad campaign promoting the "app-vantage", although some of the ads are a little cringeworthy, they aren't wrong. The CommBank app has many more features compared to the other big 4 banks.
Track:
The CommBank app automatically categorises your spending into basic categories, such as; house, eating out, groceries, shopping. You can easily re-categorise something if it is incorrect. You're able to easily see how much you spend in each category every month.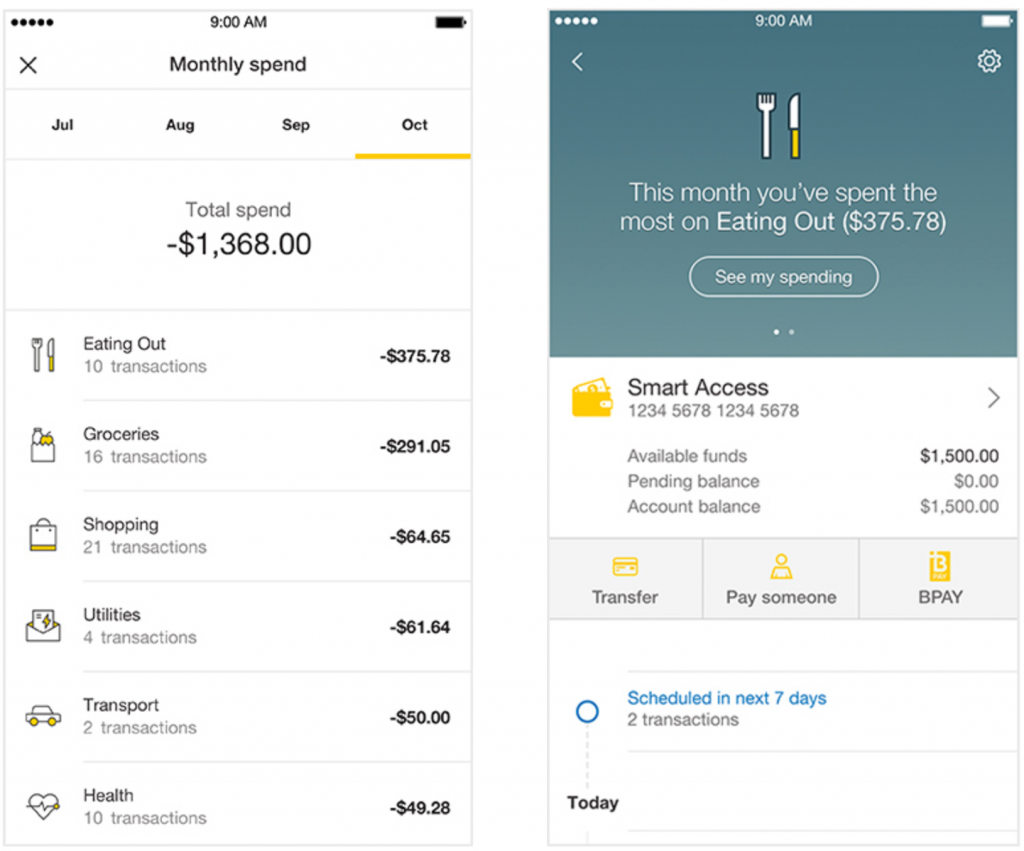 Source: commbank.com.au
Budget:
The app lets you view your cashflow to easily compare your income, spending and savings. To help you stick to your goals, you can set a budget for each category and choose how often the budget renews (weekly, fortnightly, monthly) these will appear as progress bars so you can see if you are over, under or on track for the time period that you have set.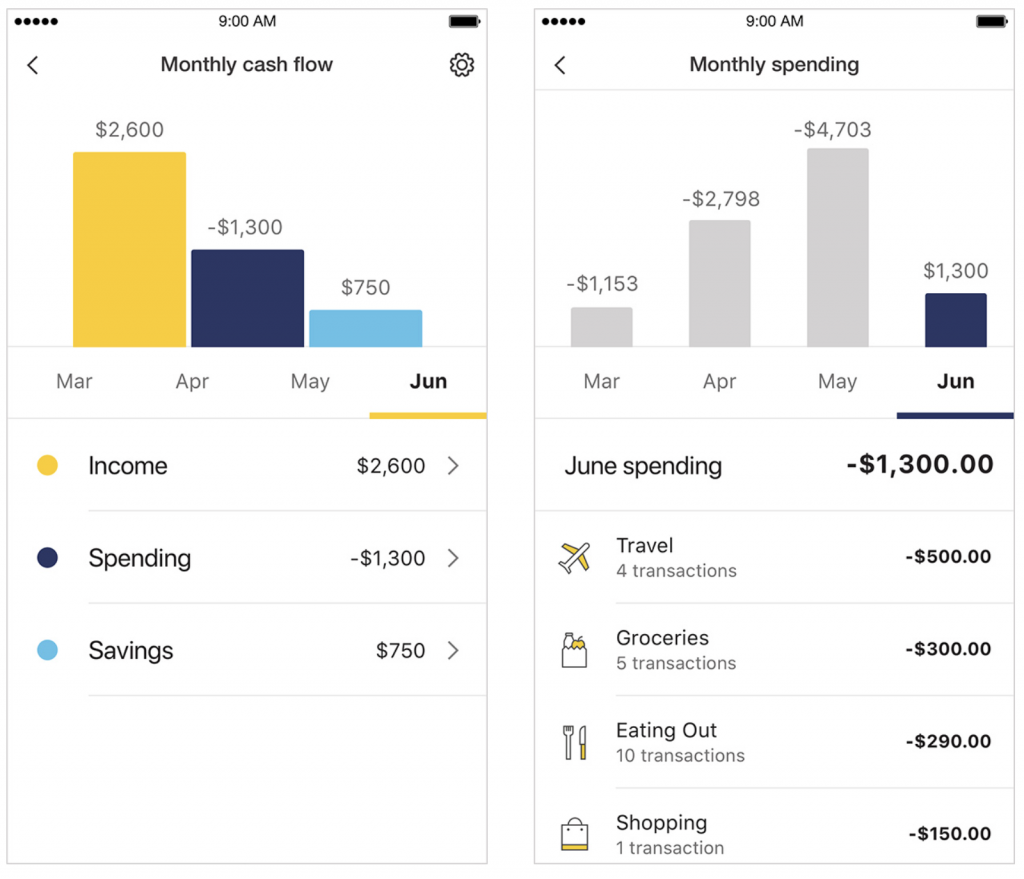 Source: commbank.com.au
Predict:
The CommBank app helps to predict bills and creates a timeline of upcoming bills. You can add or edit bills. The app will warn you if a month has more bills than usual and will tell you how much to budget for that month.
UP Bank – Goals, tracking, budgeting & round ups
UP Bank is an Australian neobank based in Melbourne, founded in 2018. UP is a collaboration between software development company Ferocia and Bendigo and Adelaide Bank.
The UP app is one of the best out there and according to them the best ranked app in Australia. The app is very millennial & Gen Z friendly, with customisable emojis and lots of colour.
Saving goals:
Just like Westpac and ANZ, UP Bank has an easy-to-use savings goal feature. You can customise your goals with emojis as well as divvy up your pay amongst goals via percentage amounts. Even more impressive is the round-up feature that can be toggled on or off and allows you to round up purchases to the nearest dollar or to a chosen amount. You then select which savings goals you want to direct your round ups to!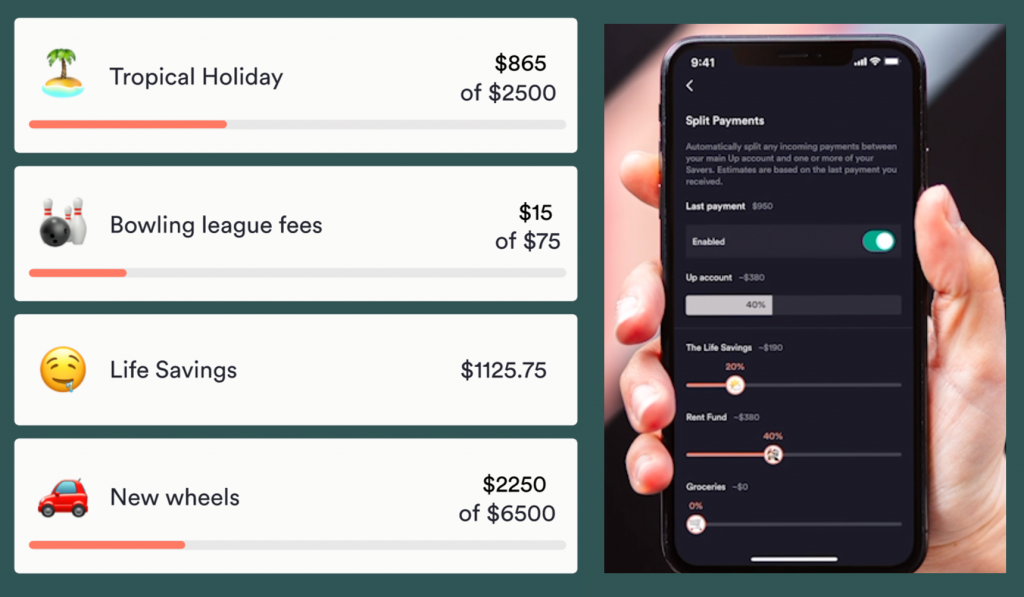 Source: up.com.au
Track:
Much like the CommBank app, the UP app tracks your spending via categories, but unlike CommBank they have many more subcategories, so you can really hone in on a spending habit. You can create custom tags so you can track specific spending such as work lunches or coffee. The app even allows you to categorise via brands and shops to see how you spend over time and across different stores.
Budget:
You can easily set limits for each category so that you stay on track with your budget, you can even turn on notifications to tell you if you're about to slip over the limit or encourage you to spend steadily.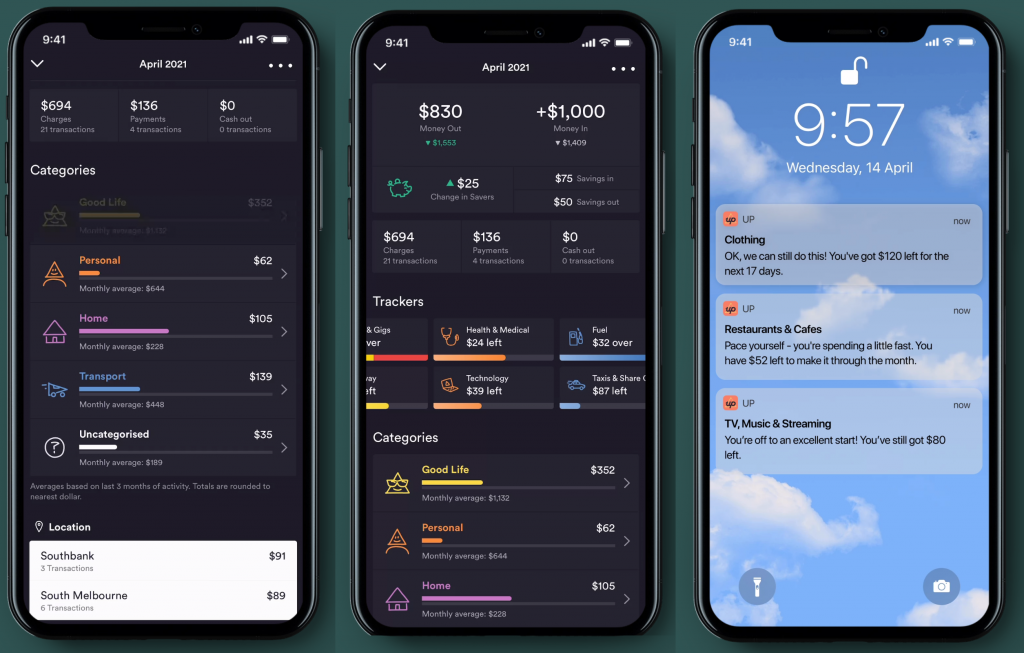 Source: up.com.au
Bonus tip: Up Bank offers a 0.7% p.a*. interest rate on the Up Savers accounts. 0.70% p.a. calculated daily, paid monthly once qualified and applied from the start of the qualifying calendar month. 0% interest is paid when unqualified. To qualify, make 5 successful purchase using your Up debit card, Apply Pay, Google Pay or other digital wallets in a calendar month.
*Rates effective from 1 March 2021 and are subject to change.
Important: This content has been prepared without taking account of the objectives, financial situation or needs of any particular individual. It does not constitute formal advice. Consider the appropriateness of the information in regard to your circumstances.