If you're a first time or novice investor, here are some tips for starting to build your understanding of shares and then to build your wealth by buying into quality companies.
If you're someone who's never invested in the stock market (apart from what your super fund has done for you – always remember if you have superannuation then you're an investor in stocks!) the way the Coronavirus has affected markets has given many people a chance to get into shares. This was because panic forced the stock prices of good quality companies down to bargain basement levels.
I've found over the years that you can learn from market legends and their rules of thumb can be very instructive and helpful for building wealth. On that subject, one of the great legends, Warren Buffett, has given us a great lesson on stocks (or in fact for any asset) when he told us to "be fearful when others are greedy and greedy when others are fearful!"
Yep, this lesson works for shares, property, artwork, collectibles or any asset that you should hold over time. And it's especially true when you can buy them at really low prices.
The key is to be a long-term investor. If you bought a good travel company stock now (like Webjet that took a hit when Covid-19 crashed travel), you could lose money but one day, when the world becomes normal again, the share price should 'roar' back.
Of course, some companies lose their way and that's why I tell my financial planning clients that if we're to buy stocks, I want 15 to 20 stocks in the portfolio. If, for example, we bought them with a 5% exposure to each company, it means if a CEO makes a bad decision or a government policy hurts the company, then maybe the other 19 companies doing well more than make up for the one bad company that underperforms.
This chart shows how crashes like this happen but then the market rebounds over time. I know you mightn't like or even understand charts but stick with me on this.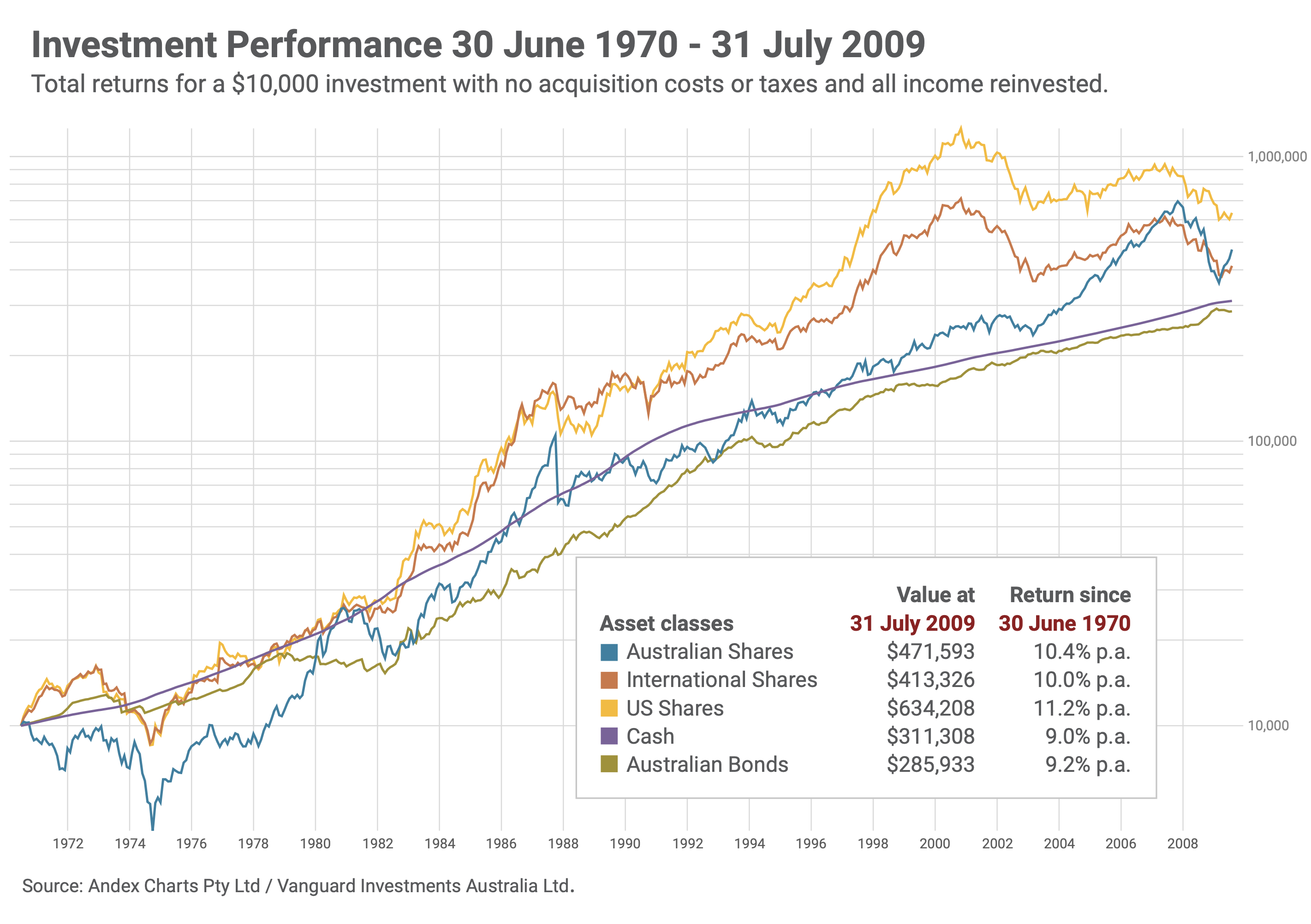 The blue line shows big crashes in 1974, 1981, 1987 and 2008, while there was a little one in 2002 with the US dotcom crash — but we only had small exposure to hi-tech companies then.
The bottom line is that after a crash, the stock market climbs again and the rebound in the year after can be between 30% and 80%! After the GFC from March 2009 to December, the market rebounded 55% in 10 months!
There are always rebounds after panic selling episodes. Even though the market has recovered a lot, I suspect there'll be down days linked to virus data, which certainly seems to be improving globally, especially as vaccinations are happening.
Timing the market is hard. You're better investing with a long-term view in mind. There's a lot to learn about investing in shares but sometimes dipping your toe in with a quality company whose share price has been beaten around is the first step in a long journey to building your wealth slowly through investing in shares.
Important: This content has been prepared without taking account of the objectives, financial situation or needs of any particular individual. It does not constitute formal advice. Consider the appropriateness of the information in regard to your circumstances.