With the rising popularity of make-it-yourself food boxes like HelloFresh and Marley Spoon, at Tilly Money we had a few questions around which option was more financially viable. In the HelloFresh corner, we have Thea McLachlan who has just begun mixing in a little HelloFresh to her weekly schedule. In the supermarket corner, we have Claire Osman who leaves the shopping and most of the cooking to her partner.
The Supermarket Shop:
Essentially, I (Claire) can't take credit for any of the below items in my menu. I'm a pretty blessed person on the food front as my partner is a trained French chef. We have recently struck a deal where he takes care of all the grocery shopping in exchange for me taking care of the majority of cleaning. Besides the convenience of a food box delivery, I honestly couldn't imagine limiting my choice of food in that way. Financially, I feel as if I can adapt my weekly menu based on my budget but I could see that there is definitely the value of having zero food waste (besides the packaging) from a delivery service.
*Some items like spices, flours and pantry staples were not necessary to purchase in the making of these dishes.*
1. Chiche Barak –
Middle Eastern lamb & pine nut dumplings
Onions (1.5kg bag) $2.50
250g lamb mince $4.00
Pine nuts $3.95
Wonton wrappers (x2) $6.50
Silverbeet $3.50
1 red chilli $0.38
Total cost: $20.83
Servings: 4
2. Mezze –
mixed plate of dips, crudites, meats and pickled veg
Homemade kofta (250g lamb) $4.00
Beef $6.50
Hummus $3.50
Babaganoush $2.70
Flatbread $2.50
Cherry tomatoes $3.50
Cucumber $0.62
Mint $2.50
Parsley $2.50
Total cost: $28.32
Servings: 4
3. Roquefort clafoutis & rocket salad–
a caramelized onion and cheese tart
Eggs (12pk) $6.90
Rocket $2.00
Butter $3.70
Onion (already purchased)
Milk $2.95
Cream $4.50
100g Roquefort $7.50
Total cost: $27.55
Servings: 2
4. Lyonnaise salad –
the French version of a Caesar Salad
Tarragon $3.00
Sherry vinegar $4.00
Mesclun lettuce $2.00
Dijon mustard $2.00
2 pork sausages $4.80
Shallots $1.05
Total cost: $16.85
Servings: 2
5. Lanzhou beef noodles –
a Chinese noodle soup
Noodles $2.00
Broth base $2.00
Bok choy $2.50
Stock $2.30
Frozen wagyu $7.50
Total cost: $16.3
Servings: 3
TOTAL WEEK COST: $109.85
Average cost per serving: $7.98
HelloFresh box:
I (Thea) have been using HelloFresh for a few months now. As often is the case, I got sucked in by the free box trial and haven't really left. The reason my partner and I like it so much is because we don't have to think of recipes to cook each week and the variety to choose from is substantial, so we never eat the same meal twice (unless we really love it!). I like the convenience of having the exact amount of ingredients and no waste left over. However, the biggest convenience is having the HelloFresh box delivered directly to our door each week.
We are on the three meals a week plan for $70 including the delivery fee. The meals are supposed to serve two people; however, we find that quite a few of the meals easily make three servings. On the other nights we either cook a quick meal, grab take-away or eat leftovers. This means we only need to step inside a grocery shop every fortnight or so to grab bread, milk, eggs, pasta, cereal etc.
*Most HelloFresh meals expect you to have some pantry basics such as olive oil, salt & pepper, eggs etc.
1. Haloumi & Olive Traybake –
with veggies & creamy pesto dressing (HF)
Garlic cloves
Sweet potato
Capsicum
Beetroot
1 brown onion
Dried oregano
Haloumi
Kalamata olives
Baby spinach leaves
Creamy pesto dressing
Total cost: $23.30
Serves: 2
2. Sichuan chicken & garlic rice –
with veggie stir-fry (HF)
Garlic cloves
Basmati rice
Ginger
Capsicum
Asian greens
Chicken thigh
Sichuan garlic paste
Coriander
Long red chilli
Total cost: $23.30
Serves: 3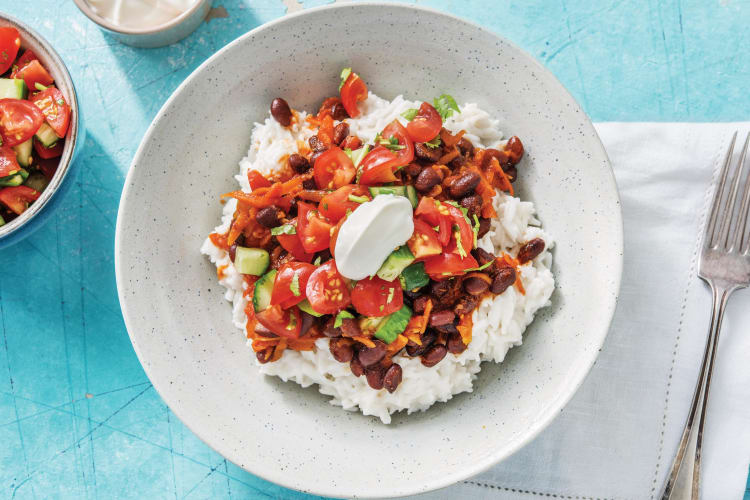 3. Caribbean Bean Chilli –
with coconut rice & cherry tomato salsa (HF)
Coconut milk
Basmati rice
Carrot
Garlic
Black beans
Mild Caribbean jerk seasoning
Chilli flakes
Tomato paste
Mango chutney
Vegetable stock
Cherry tomatoes
Cucumber
Mint
Greek yoghurt
Total cost: $23.30
Serves: 3
4. Tuna Pasta
185g can of tuna in oil
400g can diced tomatoes
Mixed herbs (pantry item)
Garlic (pantry item)
Chilli (pantry item)
GF pasta
Total cost: $8.80
Serves: 3
5. North Indian Butter Chicken –
with basmati Rice
Street Kitch North Indian Butter chicken sauce packet + spices
200g chicken breast
Carrot
Broccoli
Basmati Rice
Total cost: $14.35
Serves: 4
TOTAL WEEK COST: $93.15
Average cost per serving: $6.21
So, we have a clear winner in the financially-friendly and convenience department – HelloFresh! Obviously, there are lots of other variables but it does show you that these food delivery services might not be a bad option for your budget and your belly.
Important: This content has been prepared without taking account of the objectives, financial situation or needs of any particular individual. It does not constitute formal advice. Consider the appropriateness of the information in regard to your circumstances.