When it comes to budgeting your life, your energy bills might just seem like a necessary evil with a fixed cost. Maybe you signed up for a relatively good offer when you first moved out of home and never thought to change, or you've stuck with one of the big-name companies for as long as you can remember.
Unlike changing internet providers, which is an ordeal many of us have had to endure in this post-NBN world, switching your electricity and gas provider won't lead to any interruptions and is actually a relatively simple process. You might not even have to speak to anyone on the phone.
The starting point for your research is Energy Made Easy, the Australian government's own independent comparison site. First introduced in 2012, the site allows residents and businesses in NSW, Queensland, SA, Tasmania and the ACT to compare the electricity and gas plans currently available to them. Energy Made Easy has a significant leg up compared to commercial comparison sites because it has no incentive to promote specific companies or plans.
(Victorians should head to their equivalent state-based site for comparisons, while there is no government-run comparison site offered in Western Australia and the Northern Territory).
On the Energy Made Easy website, you'll need to select whether you're looking for electricity or gas plans (or both) and enter your suburb. Next you'll be asked how many residents are in your household, and then you'll have the opportunity to share your energy usage. You don't have to provide this information, but it will be much more difficult to calculate your potential savings without it.
To share your usage, you can either enter the data manually from a paper bill, upload a PDF of your bill or enter your NMI (National Metering Identifier). I decided to walk through the steps myself using my latest electricity bill: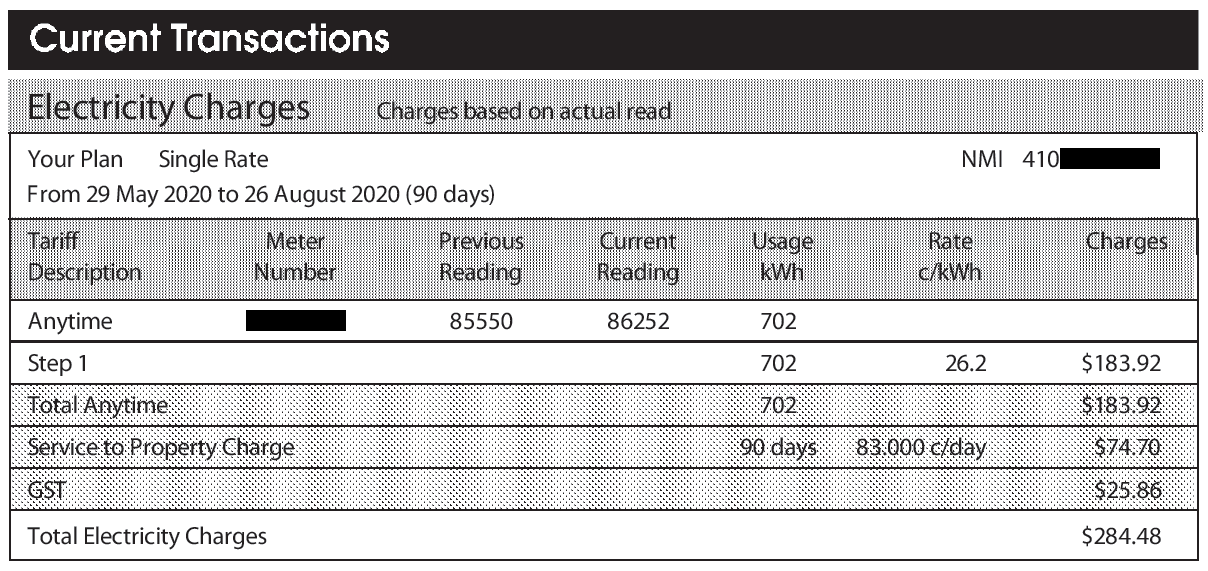 If you select to enter data from a paper bill, the site asks whether you have a smart meter, peak and off-peak rates, a controlled load or solar panels. In most cases, you'll likely already know the answers to these questions, or this information will be included on your bill. For me, the answer to all of these is 'no', so I just need to copy over the billing dates (29 May to 26 August 2020) and the total usage (702 kWh listed under 'Total Anytime' on my bill):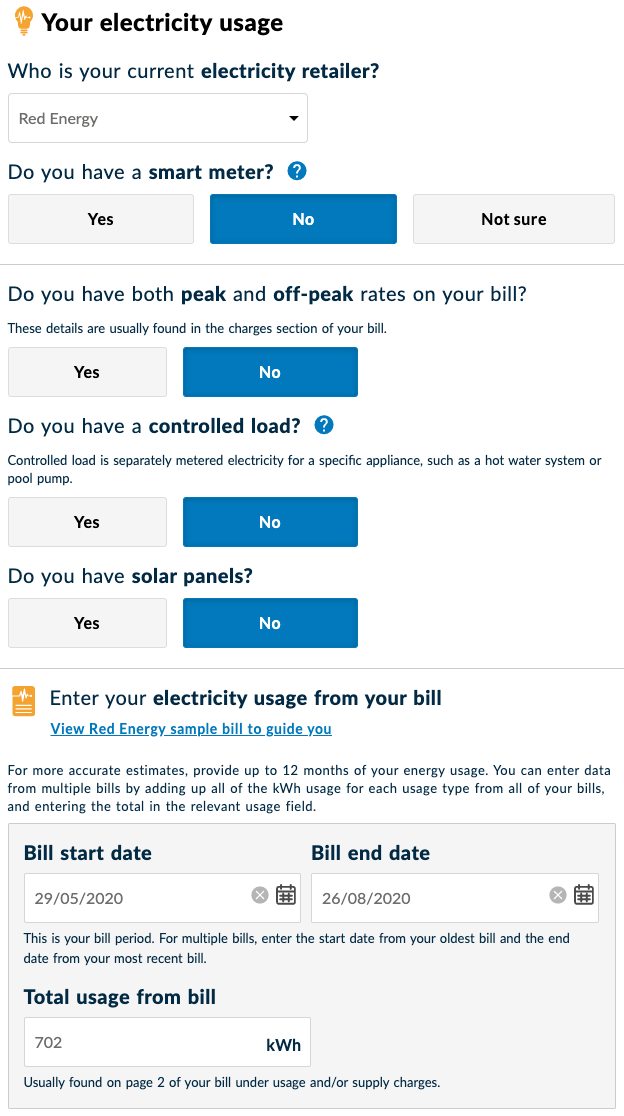 The next method you can follow is to upload a PDF of your bill. So long as you have this handy and your retailer is tested and supported by the site, this only takes a couple of clicks: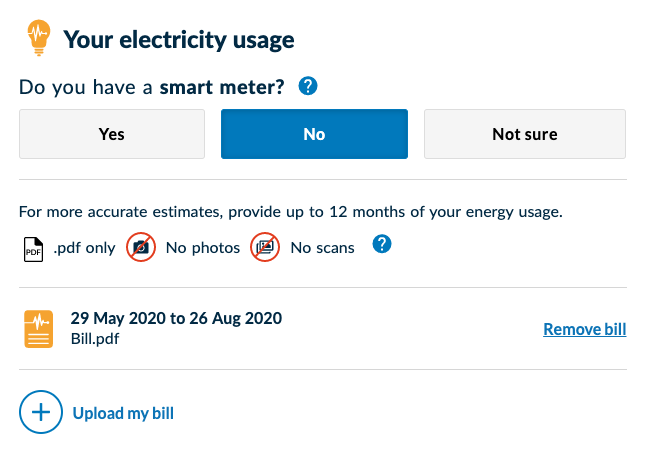 In both of the above cases, you can also choose to share information from bills dating back up to 12 months in order to get a better estimate.
Finally, you can provide your NMI, which should be included on your bill. In my case, it is listed in the Current Transactions section, but if you aren't able to locate it, contact your provider. If you've entered it correctly, you should see 'Connected' appear next to your NMI: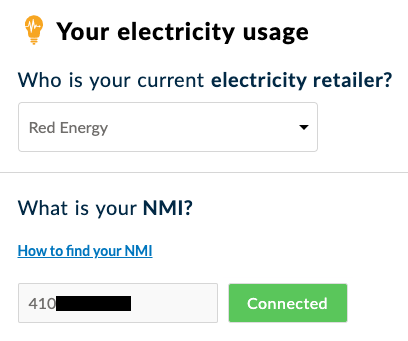 Whichever method you follow, you'll next be brought on to a page that compares the energy plans available to you. By default, you'll be shown the plans sorted by least expensive to most expensive for your billing period, and any discounts available will be factored into the prices displayed. While you could easily just sign up with the cheapest provider, let's look at the first three results I received to get a better idea of the things to look out for: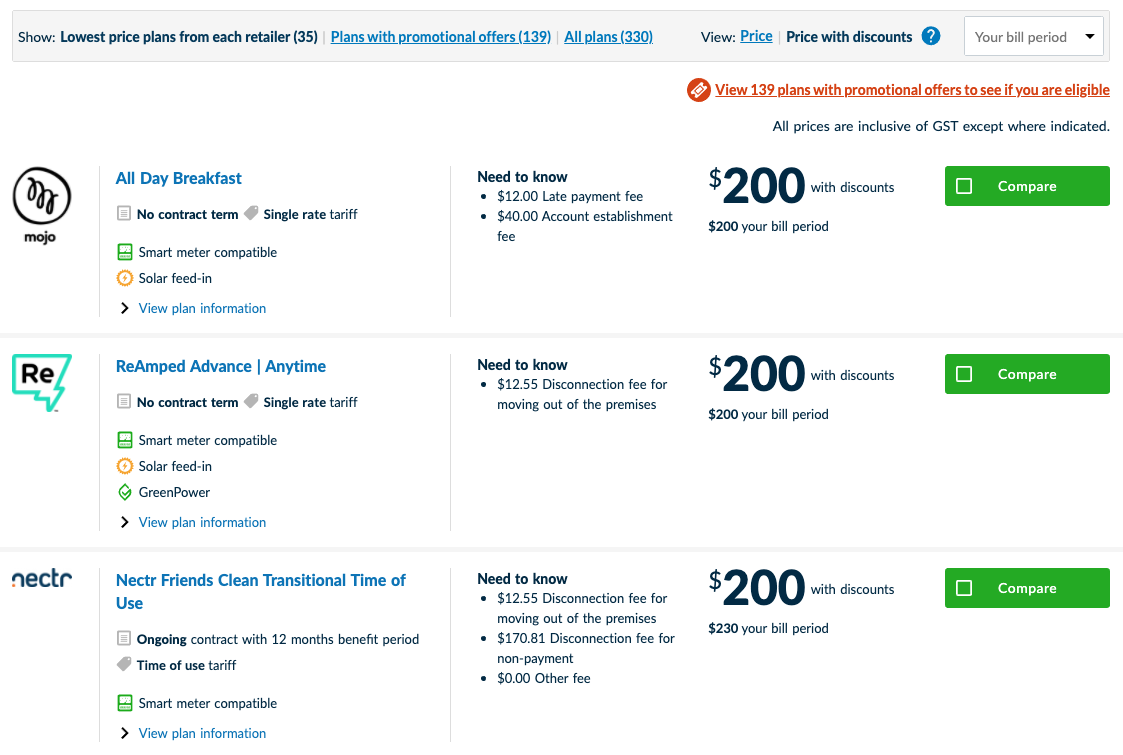 The key information is all presented on this results page, but you may need to click on 'View plan information' to get more details about an individual plan. As you can see, my top three results all have the same price for the billing period I entered, however the Mojo price does not include a $40 account establishment fee and the Nectr price partially factors in a discount available to new customers.
If you entered usage from more than one bill in the previous step, your results will more accurately reflect what you will pay each month, quarter or year. If you aren't able to easily access this information, the site can still extrapolate based on the information you've entered.
Let's see which plans come out on top when switching my results to a yearly basis: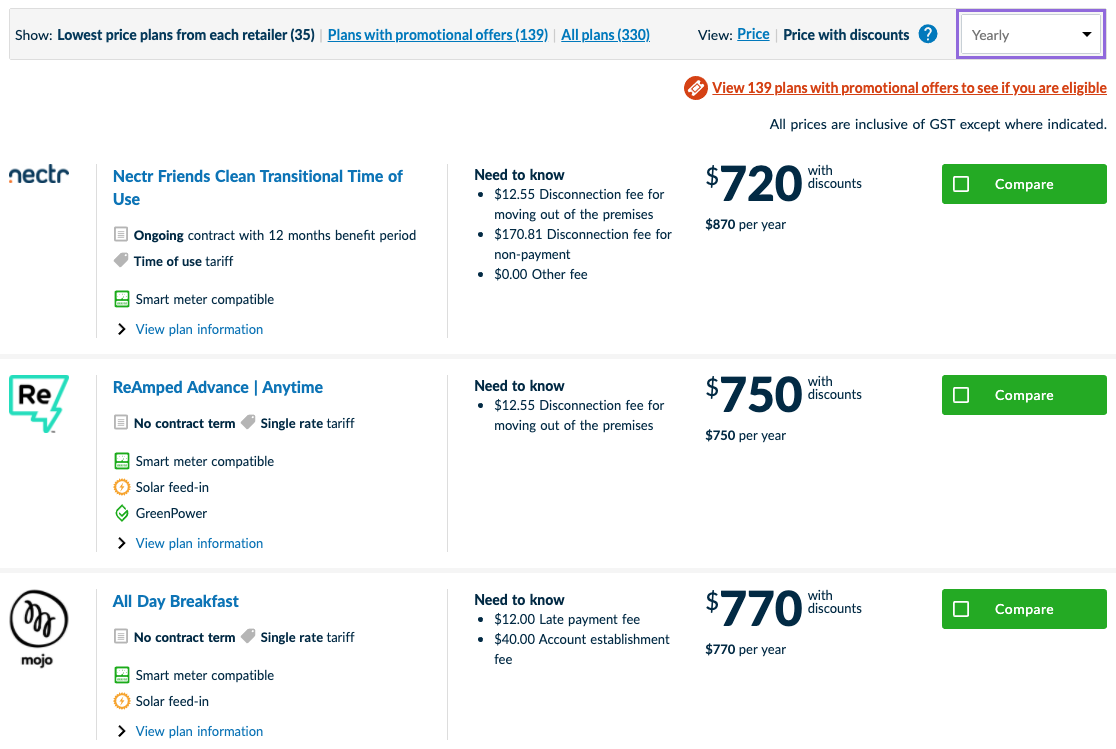 Nectr now appears to be the cheapest plan but remember to look at the true cost over time. The plan will actually cost $870 for your second year, which is higher than both of the other options listed.
If you don't mind heading back to Energy Made Easy and changing providers again after you've received your discount, this won't be a problem as you can get the discount and then move on to the next cheapest option available to you. But if you're looking for a plan that you intend to stick with for a longer period, don't be misled by big upfront discounts and remember to factor in fees for things like disconnections.
Once you've decided on your plan, click on its name and you'll be provided with the website and phone number where you can sign up or find out more information if necessary.
There's a good chance you'll save quite a bit of money by switching. My current electricity plan was one of the cheapest available to me when I originally signed up, but now I'm set to save at least $140 per year. That's not too bad for a just a few minutes of work.
On the other hand, if you are already signed up for a good value plan, you might not find anything cheaper available to you, so no action is required other than a plan to check again later to ensure your plan is still competitive. One other possibility is that you'll find a cheaper price offered by your existing provider, in which case you should reach out to them to explain the situation and they should be able to help you out.
In the states where Energy Made Easy is available, it stands above its commercial competitors by offering a comprehensive and independent comparison of the electricity and gas plans available to you. If you have a few minutes to spare and can easily access your bills, head there right now to make sure you're not being ripped off by your current provider, or pencil in a time to do so as soon as you can. You have the power to save on your bills, so there's no excuse not to!
Important: This content has been prepared without taking account of the objectives, financial situation or needs of any particular individual. It does not constitute formal advice. Consider the appropriateness of the information in regard to your circumstances.