I was asked once what someone should do if they know that their money life is in chaos and they want to change all that to become a millionaire. It's a big task to change anyone, but to go from chaos (where the chance of building wealth is minimised) to establishing order and getting the snowball of wealth rolling, is doable. And yes, you should end up a millionaire!
However, there has to be a commitment to new ways of living.
That's right — if you live in chaos, you have to live orderly to change. By following processes, the end result will be success. You don't get richer in a day but daily, so let me show you what a 'getting your act together' plan, for day-by-day improvement, would look like.
You're going to have to write this down and be able to see it daily, so it will remind you that you are changing and will soon be another person when it comes to money.
These are the questions we ask our financial planning clients:
What are your money goals? (Write or type them down.)
Are you on track to make them happen? (Yes, no or don't know!)
What are you prepared to do to make them happen? (Follow your advice.)
This is what our advice often ends up being:
Let's do a budget to see where you earn and spend your money. (Can we increase the income? And/or cut your costs?)
This is what you should be able to save and you will need to do this to build up an amount of money that can then be invested to grow your wealth.
Here are the investments that the normal person does not access and it's why they don't end up with abnormal amounts of wealth.
Are you paying too much tax? And can the Tax Office help you to invest in wealth-building assets?
What are those investments?
Add more to super via salary sacrifice, which allows you to get a maximum $25,000 a year into super (this amount goes up from July 1 this year).
With salary sacrifice, if your boss puts $7,000 out of your annual wage into super for you, you can salary sacrifice extra money out of your pay up to $25,000 and add this to your super.  In this case, the person could add in $18,000! And wages that could be taxed at 19%, 32.5%, 37% or 45% would only get taxed at 15%, before ending up in super, so you get more into super, which will help you get rich!
Make sure you are in the best performing super fund that doesn't overcharge you. Yahoo's search engine will help you find out the best super funds.
Should you set up a self-managed super fund (SMSF)? This depends on age, how big your super balance is and whether you want to run your own super fund.
Exchange traded funds (ETFs) mean you can invest in the stock market very easily nowadays and so you can, for example, invest in Australia's top 200 companies in virtually one 'stock', called an ETF, which you can buy into with online stockbrokers.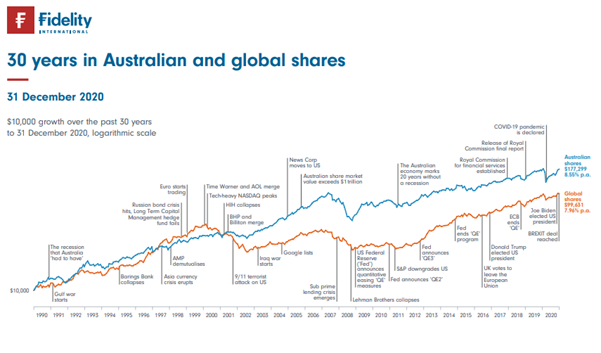 This chart shows you how the S&P/ASX 200 Index has grown over time and an ETF that tracks this Index can help you grow your wealth.
This chart shows how over 30 years $10,000 became $177,299 and if the starting investment was $100,000, it would've grown to around $1.7 million!
These big numbers have happened despite dotcom crashes, the GFC, September 11 attacks in New York, Donald Trump's trade war with China and COVID19.
These big numbers should be a powerful incentive to change your approach to money and be committed to saving, investing and getting richer.
As I always seriously joke: "If anything is worth doing, it's worth doing for money — lots of it!"